South Florida Exterior Painting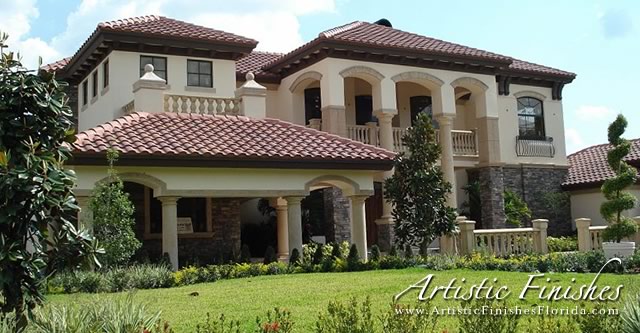 South Florida Exterior Painting
Protect your home or business with the coverage it needs to weather the South Florida heat, rain and storms. Residents on the east coast of Florida experience an estimated 10 hours per day of approximately 80 degrees of sun with humidity. Rain and high winds from storms are also frequent in the South Florida area. These and other outside elements are constantly attacking the paint on your home and business. Protect today! Call Ryan for a free estimate of how Artistic Finishes can help protect your investment by weather treating its outside structural appearance.
Your garage door can look like new in a day! Just give Artistic Finishes the opportunity to show you how enhancing the color of your garage door can give your whole neighborhood a facelift. Be different, be bold, be in style, be confident about choosing Artistic Finishes to do the job right!
Just like your car needs waxing to protect it from the effects of the weather and other exterior elements, your home needs to be protected in this way as well. Florida, especially South Florida, has a record of experiencing the high winds from hurricanes and tropical storms. Don't be caught without the protective covering your investment needs. Hurricanes can chip old paint away exposing your home to mold and rust, and become a gateway for insects and rodents. In some neighborhoods, the Home Owners Association (HOA) puts certain restrictions on the exterior house paint colors1, so make sure to mention to Ryan that you have approved the color with your HOA.
Are you selling your home? The first impression of your buyer is what counts the most. The outside of your home should represent a new beginning to a potential home buyer. A fresh renewal of paint on the exterior of your home will be just what the buyer is looking for. Painting the exterior can also serve as theft protection. An unattended to home may be a target for potential burglars. Don't let your home-for-sale be targeted next, call Artistic Finishes to give potential buyers a great first impression and send potential burglars far away2.
Business owners, you sell the customer the product, but your storefront gets them in the door. Make sure your business exterior is attractive to customers.
Home Deed Restrictions: Heaven Sent or the Devil's Playground?, all exterior house paint colors must be approved by the HOA.
http://pascoflrealestate.typepad.com/john_elwell_realtor/2007/07/index.html
Home Safety Tips for Sellers, New paint for trim, especially in the front of the home,
http://activerain.com/blogs/npiinc
Exterior Painting Gallery